Types of Braces
---
Metal and Clear Braces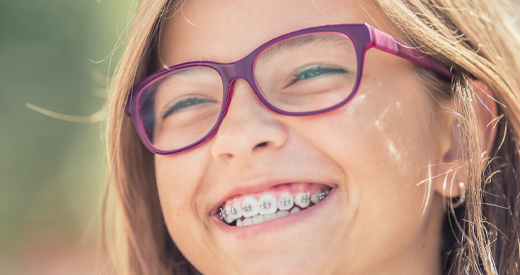 Orthodontics Exclusively offers metal and clear braces for residents in Cape Coral, Fort Myers and Lehigh, Florida.
No matter what age you are, you want to have a beautiful smile that you're proud to show off. Having proper teeth alignment is the foundation of a great smile and healthy bite. They can correct overbites, underbites, and misalignments, for example.
Metal Braces 
Metal braces are used by many orthodontists to make transformative alterations to their patients' smiles. Metal braces straighten crooked or misaligned teeth by exerting pressure on certain points on the teeth until they shift into place. Traditional metal braces are able to realign the teeth over a broader movement area than their transparent or clear equivalents. While they may be more noticeable, they offer the opportunity to choose and coordinate new  colors at each adjustment.
Clear Braces 
Clear braces are made of tooth-colored ceramic material that blends in with your smile and provides a discreet yet effective orthodontic treatment. Clear braces are a terrific alternative to standard metal brackets for adults, but they are also available for teenagers.
Clear braces straighten your teeth in the same way that regular metal braces do. Your orthodontist in Fort Myers, FL will apply ceramic tooth-colored brackets to your teeth, then run a wire through them and bind them with transparent elastics. Your orthodontist will use a succession of wires, rubber bands, and other ways to progressively straighten your teeth with consistent pressure during visits to the clinic every 4-6 weeks.
An alternative to clear braces is Invisalign, which consists of a series of dental appliances that gently reposition teeth back into place. Note that Invisalign and similar orthodontics are only for mild to medium teeth alignment problems. Those with severe overbites, underbites and crooked teeth may still need to have either traditional metal braces or clear braces.
Whenever you need teeth alignment, you can rely on Orthodontics Exclusively to help you get your teeth back into the position where they are supposed to be.